Stamp & Save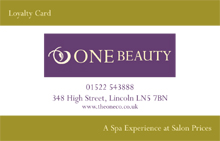 A Stamp & Save Scheme is possibly the simplest Customer Loyalty scheme of all, and can be used by almost any business looking to encourage Customer Loyalty. It a very Cost Effective method of implementing all of the essential elements when introducing a successful loyalty scheme.
Operation of the Scheme is simple. Customers are handed Company Branded Loyalty Card which has a number of blank boxes on the reverse. Each time the customer exhibits the required Behaviour, the card is stamped. When all the boxes are stamped the Reward is Given, the completed card is taken from the customer, replaced and the process is repeated.

'Required Behaviour'
can be anything ranging from 'A certain number of Visits' 'A certain amount spent on each visit' i.e. £25.00 for each Stamp. and the
'Reward'
can be anything ranging from a 'Gift Voucher' to spend on their next visit, a 10% Discount or £10.00 off on their next visit.
Minimum order is just 250 cards, prices start from £93.00 (price includes design & set up and Self Inking Stamp)
NB: The decision as to How you Reward and what you expect from your Customers is entirely your decision. However we are always happy to offer our opinion!